As
examples of over-enforcement
multiply and as we see
snitch lines and people's willingness to use them
, we may want to take one giant step back, turn our heads side to side with our eyes open, and observe what seems to be happening around us. As I said in
a post last week
, "with the penchant for sensationalism on the part of some of the media, and the lust for attention and control on the part of some of our politicians, there may very well be aspects of this crisis that are being overstated. And some may be positioning themselves for greater access to the levers of power once the crisis has abated." And so, "careful inquiry is always warranted in unusual times when people stand to gain anything, and in the midst of this crisis there are those who see opportunities for improper gain." Since I wrote that, my optimism about government over-reach has faded significantly. I've been thinking a lot about the limits of obedience in the context of Romans 13, which, taken (as it always should be) along with the rest of scripture, does not advocate absolute obedience to the state. This means we should not simply "do what we're told" in every circumstance.
When those in authority attempt to leverage a crisis to expand their control over those under their authority, we should not hesitate to speak up.  
The War Metaphor
And so we should be alarmed when we read words like these from a
recent editorial in the Globe and Mail
that bluntly states, "Canada is at war. It's a war that is going to be costly, though how costly is impossible to say. It may also be long." If we are going to swallow this suggestion whole we should expect some indigestion in the near future. This quote from
George Orwell's novel 1984
seems timely: "[T]he consciousness of being at war, and therefore in danger, makes the handing-over of all power to a small caste seem the natural, unavoidable condition of survival."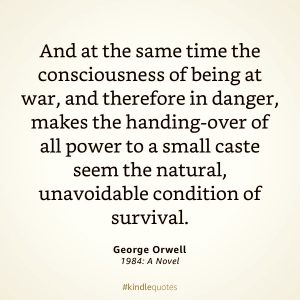 Follow Intelligently, Not Blindly
As we continue to discern both the obligations and limits of what we are told in Romans 13, let's watch and
follow intelligently but not blindly
. Ultimate authority resides with God's word and not the words of men – regardless of how much delegated authority they wield.
If, under threat of punishment, we fail to speak the truth of God's word at a time when it is most needed, we and everyone around us will pay a steep price.
Let's continue to obey God in all things, including these words: "I urge that supplications, prayers, intercessions, and thanksgivings be made for all people, for kings and all who are in high positions, that we may lead a peaceful and quiet life, godly and dignified in every way. This is good, and it is pleasing in the sight of God our Savior…" – 1 Timothy 2:1-3 While blind obedience will not do, neither will the complete lack of respect for our leaders I have seen in so many social media posts. Strive to find the balance between blind obedience and sinful disrespect; one is not better than the other.