What Jesus speaks of in Matthew 10:34-36 sounds a lot like what many families – church families as well as biological ones – are experiencing right now. We have disputes about restrictions, division over vaccines, and disagreements regarding the trucker convoy.
But Jesus is speaking here of the inevitable division between those who follow him and those who don't, between those who believe the gospel and those who reject it as truth, and not about the unnecessary division between people with different opinions about COVID restrictions, vaccines, and trucker convoys.
Maintaining the Unity of the Faith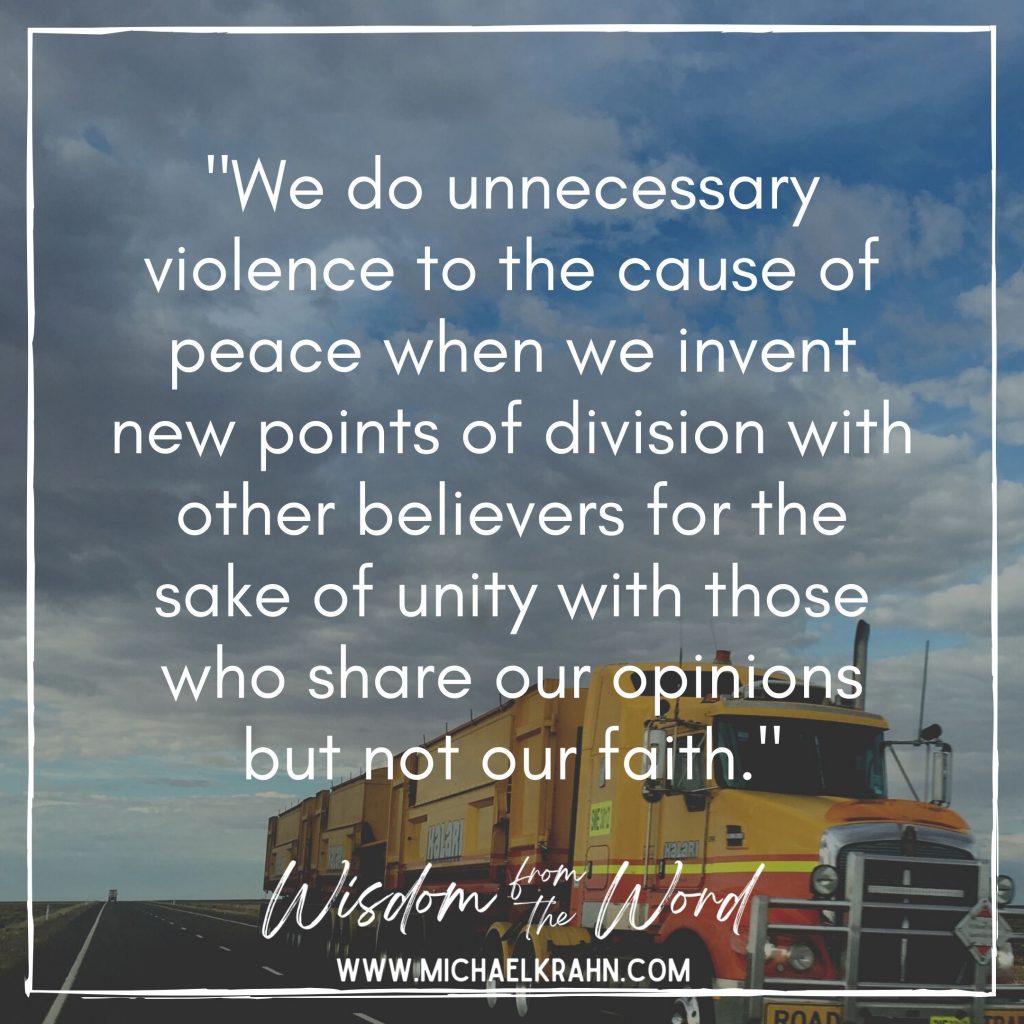 You can believe that restrictions were necessary or too extreme, that vaccines are crucial or unneeded, that the trucker convoy is a great good or a dangerous endeavour – you can believe any of these things and still be united in Christ with every other person who genuinely follows him. And in the interest of protecting this precious unity, regularly examine your own motives and words.
Are you making these secondary issues primary, thereby destroying the unity of Christ's body for reasons not found in God's word?
Are you making your personal opinions on these matters the measure by which other believers are judged unfaithful and unworthy?
Are you twisting the Scriptures, even subtly, to support your political aims?
Are you adding insult to disunity by slandering the very ones who follow Christ just as they do?
These practices must stop.
Your Primary Unity
If you are someone who follows Christ, you are in unity with all those who also follow him. This unity with other believers must be primary over unity with anyone else. To adopt secondary issues as primary ones is to compromise your loyalty to the gospel. And to go further and elevate these secondary issues to primary ones is a betrayal of the gospel itself.
The coming of Jesus and the commitment he commanded is a necessary flashpoint in many families. The light of this flash should illuminate the truth that Jesus says we cannot follow him if our loyalty to any person, protest, movement or ideology is greater than our love and loyalty to him.
Let There Be No Fellowship of Light With Darkness
So when he who is the Truth divides one against another, we must choose to follow Him instead of making temporal peace with those around us. He alone can change their hearts. We cannot – and certainly will not – make peace by trying to minimize our love for Jesus for the sake of being at peace with those who do not love Him. But we do unnecessary violence to the cause of peace when we invent new points of division with other believers for the sake of unity with those who share our opinions but not our faith. 
Subscribe to Blog via Email
Join the conversation on Facebook…
Photo by Rhys Moult on Unsplash