Here's one of the pages I check on a daily basis to try to get a handle on the current situation in Ontario. If you sift through the data on that page you can better understand where we're at and some of the possible reasons for the actions that are being taken.
Among the numerous other helpful charts there, I'm glad to see that as of today they added the following charts because they bring clarity to the "with COVID or because of COVID?" question.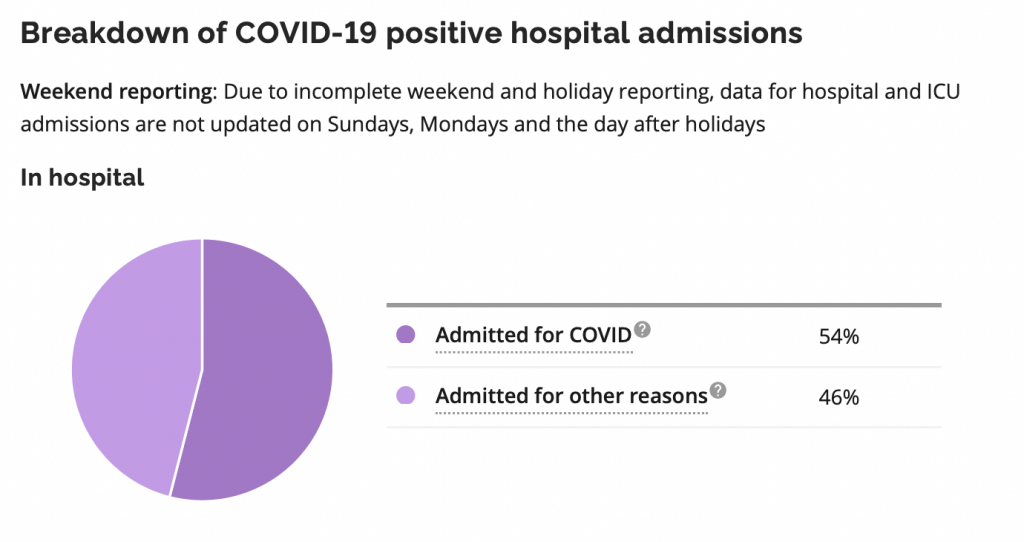 Counting cases has always been somewhat subjective. There is no way to know the absolute number of cases without everyone being tested. So we've relied on harder numbers like hospital and ICU admissions. Now it looks like, with Omicron, hospitalizations are no longer the most trustworthy indicator either.
Almost 50% of people being admitted to the hospital are "incidental COVID positives" – meaning they are admitted for non-COVID reasons but are found to have COVID upon arrival. But let's not discount that completely – these folks still require extra resources due to their COVID-positive status so that they don't infect others.
On the second chart, it seems that monitoring ICU admissions is still a reliable metric.


83% of people admitted to Ontario ICUs with COVID were admitted because of COVID. So there is the answer to our question.
What sites and sources do you regularly consult to help make sense of the world as it pertains to COVID? Feel free to discuss in the comments. As always, ask anything, but keep it civil and reasonable.
Have your say! Join the conversation about this post on Facebook by clicking here.
Subscribe to Blog via Email
Photo by Fusion Medical Animation on Unsplash